Tumor <=> Tumor-microenvironment & Radiotherapy
We found that tumors protect their vasculature from radiation- and chemotherapy induced damage by releasing pro-angiogenic and pro-survival factors. Thus, tumor-vessel communication is emerging as an important target to circumvent chemo- and radio-resistance. Recently, molecular, cellular and physiological rationales for the beneficial use of trimodal cancer therapy consisting of anti-angiogenesis, radiotherapy and chemotherapy were provided by our laboratory.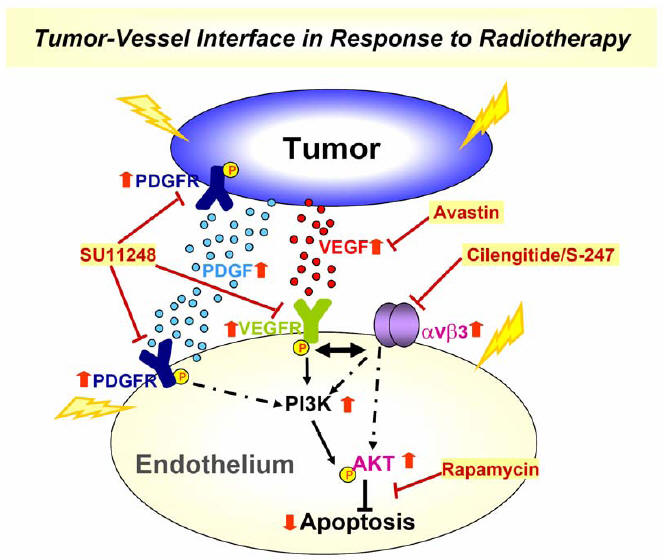 Tumor-vessel interface in response to radiotherapy. We have previously shown that radiation induces VEGF, bFGF and PDGF expression in tumor cells while VEGFR2 and αvβ3 integrin are upregulated in endothelium. Further we have shown that ionizing radiation induced PI3K signaling led to the activation of the key anti-apoptotic protein kinase Akt in endothelial cells, thus forming a defense mechanism and survival signal against radiation damage. This suggests a radiation-inducible escape mechanism by which tumors protect their associated vasculature. In this context, we show that inhibition of VEGF, bFGF, PDGF and avb3 signaling sensitize a variety of human tumors xenografts to radio- and chemotherapy.

Anti-angiogenic treatment enhances the effects of radiotherapy and chemotherapy by resensitizing endothelial cells and remodeling the tumor-microenvironment. We attempted to rapidly transfer the preclinical knowledge in the clinic. Currently, several trimodal trials in a number of solid tumors including pancreatic carcinoma are initiated. At the same time we established a pipeline for molecular analysis as routine procedure to monitor patients involved in these clinical trials for therapy response.
We believe this is a critical work in the direction of "personalized medicine" that will help the basic researcher to confirm hypothesis in actual human context. Our goal is to further systematically characterize the molecular and pathophysiological events that are involved in "tumor-tumor microenvironment-interaction" that lead to tumor therapy resistance and metastasis. We assume that a better understanding of the genetic networking and the identification of critical pathway components involved in the "angiogenesis process" are of great significance for both, the identification of new therapeutic targets and improvement of the efficacy of known therapeutic modalities.